Bitcoin selling pressure has dropped by 20% in the past week, while Ethereum selling pressure has declined by 15%. This drop suggests crypto investors may be getting more confident in the market and are starting to accumulate BTC and ETH. If the trend continues, it could lead to a bull market in the cryptocurrency market.
On-chain data indicates that bitcoin (
BTC
) and ethereum (
ETH
) have observed negative exchange net flows in the past week, contrasting the positive net flow witnessed with tether (USDT).
Amid this trend, the bitcoin supply last active in the past ten years has hit an all-time high value. These metrics suggest a notable decrease in selling pressure across the market and a looming accumulation pattern.
Glassnode, a renowned on-chain analytics resource, shared crucial insights into these trends in a series of tweets today, providing valuable information about investor sentiment and market dynamics.
The data reveals that BTC saw a net outflow of $397.9 million during the past week. This indicates that more bitcoin left exchanges than entered them, reflecting a reduction in selling pressure.
A net outflow suggests that investors withdraw their BTC from exchanges, potentially moving their holdings into secure wallets for long-term storage. This trend may signify a growing confidence in bitcoin's stability and long-term value.
Similarly, ethereum experienced a net outflow of around $1.1 billion in the past week, indicating a larger reduction in selling pressure than bitcoin. This suggests a more robust reduction in selling pressure.
As with BTC, the massive outflow of ETH from exchanges might indicate an increasing inclination towards holding the asset for long-term purposes, such as staking or participating in decentralized finance (DeFi) projects.
However, contrasting the outflows of bitcoin and ethereum, USDT demonstrated a net inflow of $318.1 million. This signals an increase in demand for USDT during the observed period.
An increase in stablecoin reserves on exchanges typically demonstrates a looming accumulation pattern. Notably, this metric suggests that investors' buying power has increased as market participants prepare to procure more risk assets such as BTC and ETH.
BTC long-term holders unfazed by market volatility
In addition, Glassnode disclosed in a separate tweet that the amount of bitcoin supply last active in the past ten years recently hit an all-time high value of 2.85 million BTC. This represents 0.55% of the total BTC circulating supply.
The growing number of BTC held for a decade or more showcases the confidence of early adopters in bitcoin's ability to store value over the long run. This recent all-time high comes despite recent market volatility.
Notably, BTC plummeted to a low of $24,800 on June 15, representing its lowest value in three months. The asset immediately recovered, closing the day above the $25,000 price territory. A subsequent 2.92% close on June 16 saw bitcoin reclaim the $26,000 zone.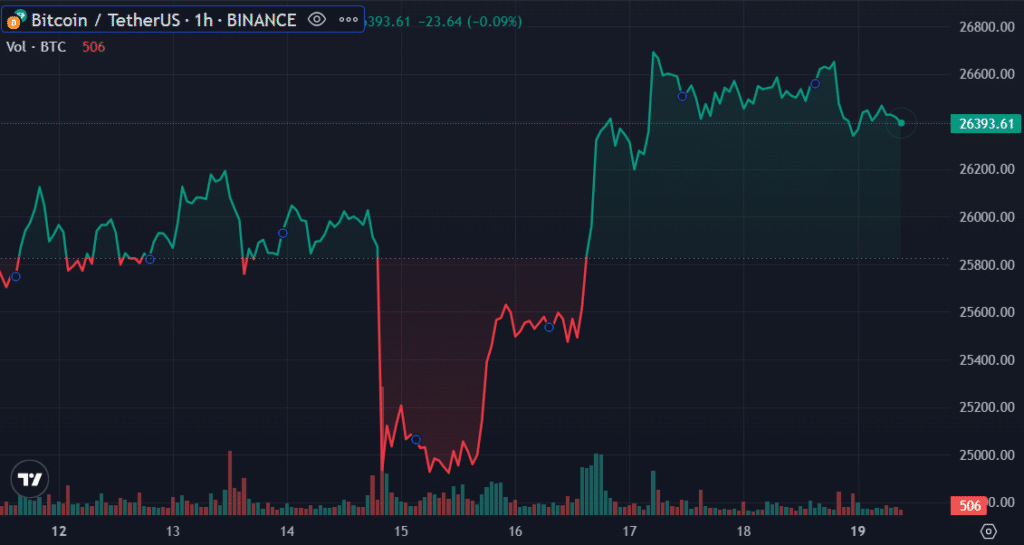 Despite the shenanigans of the bears, BTC has managed to retain a value above $26,000, currently trading for $26,392. The asset has gained by 1.92% in the last seven days. Meanwhile, ETH is changing hands at $1,722, down 1.73% over the past week.