Crypto analytics platform Santiment recently reported that whales are holding onto huge amounts of one digital asset class during the market correction. Santiment's data shows that whales have been accumulating Bitcoin (BTC) and Ethereum (ETH) during the recent market downturn. This suggests that whales believe that the market is undervalued and that these assets are good long-term investments.
The market intelligence firm says that many whales and sharks are not cashing out of digital assets altogether during the downturn but instead parking their wealth in stablecoins.
Stablecoins are digital assets with a value pegged to a specific commodity or currency such as the US dollar.
Santiment analyzes what sharks and whales, wallets holding between $100,000 and $10 million, are doing with their crypto assets at any given time. The data shows that sharks and whales have been accumulating stablecoins Tether (USDT), US Dollar Coin (USDC) and Dai (DAI) at relatively high amounts.
Says Santiment,
"Sharks and whales holding Tether (in red) are up above 40% of the supply held again, their largest amount since November, 2021.
Sharks and whales holding USD Coin (in blue) hold above 37% of the supply held again, their largest amount since February, 2023.
Sharks and whales holding Dai (in yellow) are just under 40% of the supply held again, their largest amount since December, 2020.
These are pretty staggering numbers, indicating that large holders haven't exactly cashed out of crypto. They're just holding much of their assets in the form of stablecoins while waiting for the ideal time to jump back in."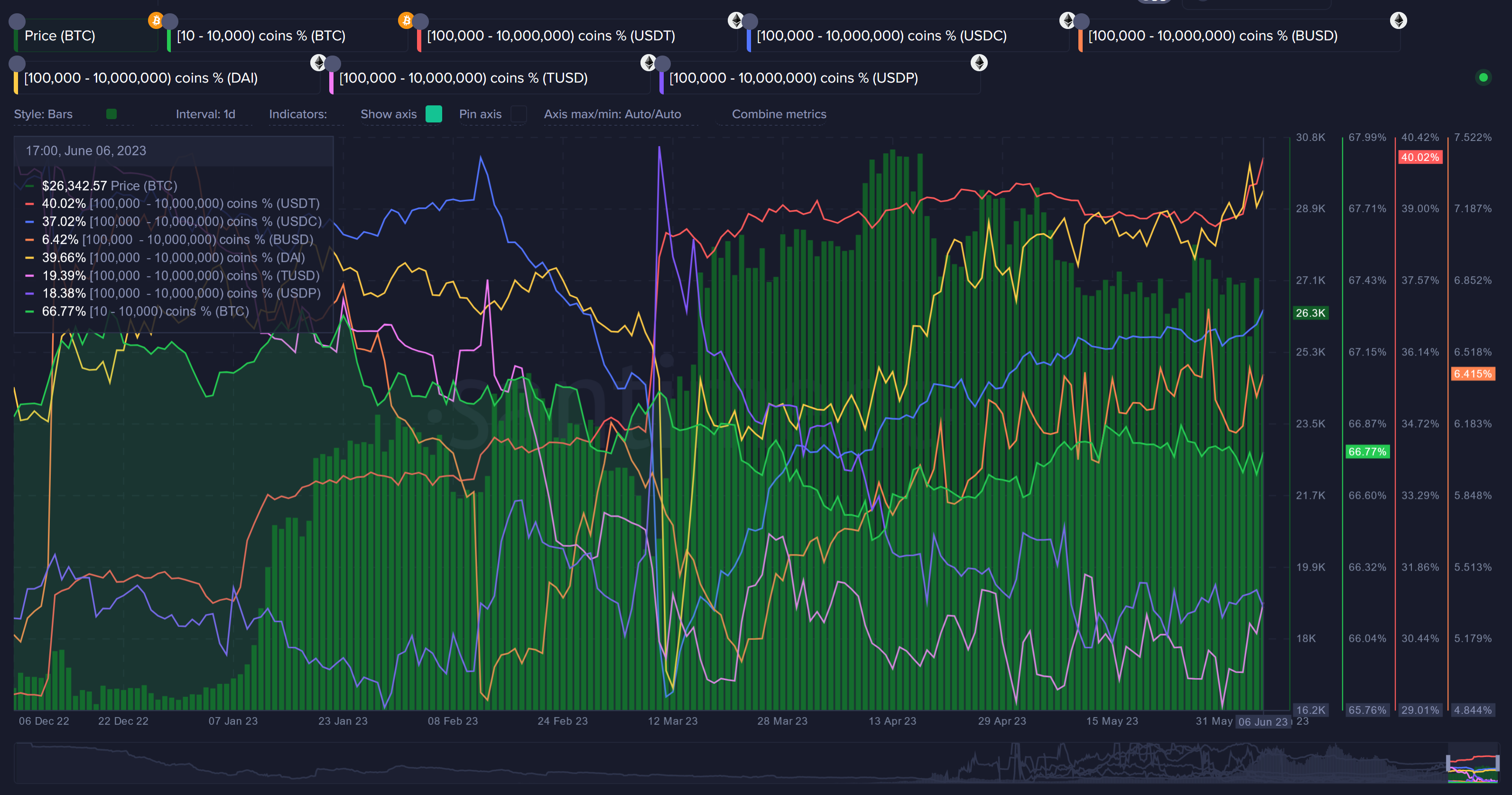 The analytics firm notes that the stablecoin market caps are slightly declining, but not on account of sharks and whales unloading them.
"Stablecoin market caps may be declining a bit lately. But it doesn't look like sharks and whales are the ones making them sink. Therefore, we have encouraging signs that show that the key stakeholders with the most power in the markets are still ready to boost crypto whenever the time is optimal for them."
Featured Image: Shutterstock/Natalia Siiatovskaia/Tithi Luadthong